LCD DESIGNS >> TUTORIALS >> Metal Effect
Great and easy way to create that metal text effect.
In this tutorial, I am gong to tell u the fastest way to create metal text effect.
For starters, first create a new layer with ur text or shape on it.
Secondly, apply Lighting Effects on that layer acc. to your taste. Then, we will head over to the Layer Styles or Gradient Overlay to be more precise.
Fill it with these settings.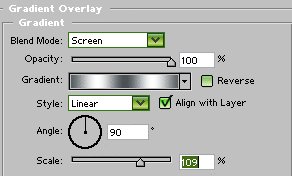 Well that's it...Here's what I got.